A completely new city district will be created in Munich. The Office Group is involved in this exciting project at Schwabing Gate directly at the Leopoldstrasse in Munich-Schwabing. Formerly this area was used by the Hypermarket Metro Group. Now there is a huge construction site. Soon there will arise a great thing. After completion of construction the state capital Munich will have another attractive location.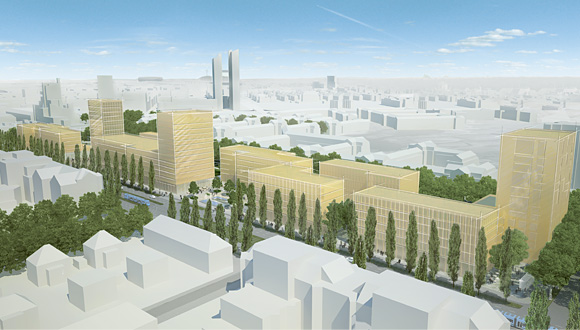 Schwabing Gate –  A revolution for people`s work lives
Even the idea for this project is amazing: A neighborhood with space for attractive living, contemporary works and inspiring recreational experiences. We humans of the 21st century often are looking around for such multi-functional "worlds". But there are still far too little of such "areas". Here at Schwabing Gate in the heart of the Bavarian capital such a new and revolutionary life working environment is created. The Spirit of Schwabing gets a new "area" to spread out.
A new lifestyle boutique hotel for the Schwabing Gate
Located in the heart of the new district a new lifestyle boutique hotel of the Hyatt group will be opened. By this way Munich received a completely new hotel attraction. A revolutionary hotel-typus with a guest orientated reception format and the use of various modern technical tools. The hotel lobby will become the central meeting place of the neighborhood. Pulsating life in the air and so much inspiration for people who live there, work there or stay there as visitors.
New City district at Schwabing Gate
200 new affordable and attractive homes will be built. Planned for different needs, from the classic family home to the luxurious apartment. The tenants will have the ability to accomplish all activities without their own car due to the good transport links and a central location. The model of car-sharing could be lived here in a consistent manner. The commercial tenants will benefit of the good accessibility and attractive neighborhood environment with selected shopping and dining areas.
Offices and studio space next door
Who does not appreciate to enjoy a creative break in a cafe in the middle of everyday work ? On the ground floor in the modern and trendy dining areas at the project Schwabing Gate this will be possible. There you will encounter the most diverse personalities from different "scenes". After the short "break" you will be new inspired to start again at your workplace. When I talk about work, I mean much more than office work. This new City district will also offer spaces that will be reserved for artistic development. Schwabing has always been a creative environment. In earlier times former artists was even given by a special Munich decree space to deal with their "art" to inspire from here the community. I hope that the Office Group will make its contribution to society in this project. The planning and establishment of the surfaces, which are dedicated to the work, we intend to face as flexible as the natural development of the new district requires.
Greetings from people's work lives by Markus Menzinger CEO of Office Group